CRM – the best support for law firm management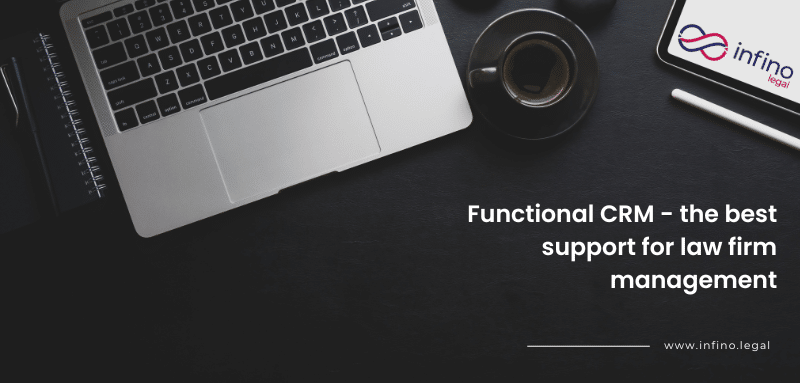 In our daily work, we care about efficiency and good relationships with our business partners. That's why it's so important in law firm today to use digital tools that help organize the flow of information and improve the quality of contact with clients, while ensuring the security of data. Multi-purpose CRM (Customer Relationship Management) programs respond to these needs. Selected appropriately to the business profile, they  ensure improvement of the company's functioning in many areas. Therefore, CRM systems are slowly becoming a common tool.
Among them, the modern, functional Infino Legal system stands out. How can this software help in the management of a law firm?
Automated Process Management
Effective operation of a law firm relies on stable, flexible management of multiple processes simultaneously. Quickly delegate tasks, manage a team, develop necessary documentation, control current proceedings, store data and many other activities. It is important that these numerous components can be controlled from only one system.  Infino Legal meets this need by automating all the key processes critical to the operation of a law firm. Among other things, it provides the ability to automatically generate documents based on a set of templates, reducing errors that may occur while drafting legal acts.
Such time-consuming activities as the creation of accounting reports or asset inventories are also being automated for the law firm. Additionally, the daily work of the secretariat is also changing for the better, thanks to the automated circulation of documents and correspondence. The software efficiently organizes and optimizes the work of multiple departments, saving time previously spent on particularly demanding tasks within the firm.
Monitoring of cases
A law firm responsible for handling multiple cases simultaneously cannot manage today without a tool that allows it to intuitively and clearly monitor tasks and activities undertaken in the proceedings. In this case, it is even more important to use software dedicated specifically to law firms.
The Kanban board offered as part of the Infino Legal system provides a transparent and fully convenient overview of the conduct of each case's progress. Thanks to it, it's easy to determine the stage at which a given proceeding is, assign further tasks to lawyers and control the progress of their execution. The comfort of work is also increased by such functions as adding and recording notes, which contain key information for the procedure of the case at subsequent stages.
Finally, a user-intutive database equipped with a system to facilitate case monitoring, the software also offers an intuitive user interface and a database equipped with modern security features helps in monitoring proceedings. Easy and quick search for the necessary contacts and information related to ongoing cases is invaluable thing. The database is complemented by a clear register of all documents, as well as a functional calendar.
Moreover, Infino Legal CRM provides the ability to easily view ongoing proceedings on devices of various types. After all, the option to work remotely is a common practice nowadays, so it's important that the software is available anywhere and anytime in the form of convenient applications. At the same time, the intuitiveness of the solutions and clarity of the graphical side matter. As does whether the software provider provides adequate technical support during the contract period.
Data Analysis
A well-designed law firm management system offers the opportunity to collect data on the effectiveness of the team's work. Equally important, however, is their constructive analysis. More than 50% of employees believe that automatic time recording would improve their efficiency. It's a fact that the measurement and reporting of working time affects the transparency and productivity of companies. That's why Infino Legal has been prepared as a practical tool for recording working time as well, giving at the same time the ability to process data and generate productivity reports. Thus, it allows you to check the efficiency of lawyer's work and implement necessary changes, which obviously translates into optimization of business costs. With an efficient CRM system for law firms, you can significantly increase the number of cases handled.
Increase the quality of service and improve contact with customers
The mentioned benefits lead to a key goal – they make it significantly easier for us to maintain regular, ongoing contact with customers. It's well known that building lasting relationships determines the success of a brand.  This is especially true for a law firm that must enjoy the unquestionable trust of its clients. The best CRM program ensures mastery of the information overload, allows you to easily monitor current proceedings and thus provide fully satisfactory service at every stage of the case. It saves time, providing the opportunity to make new contacts and expand the customer base, as well as maintain good relations with existing ones.