Modern restructuring a rescue for entrepreneurs and an opportunity for creditors.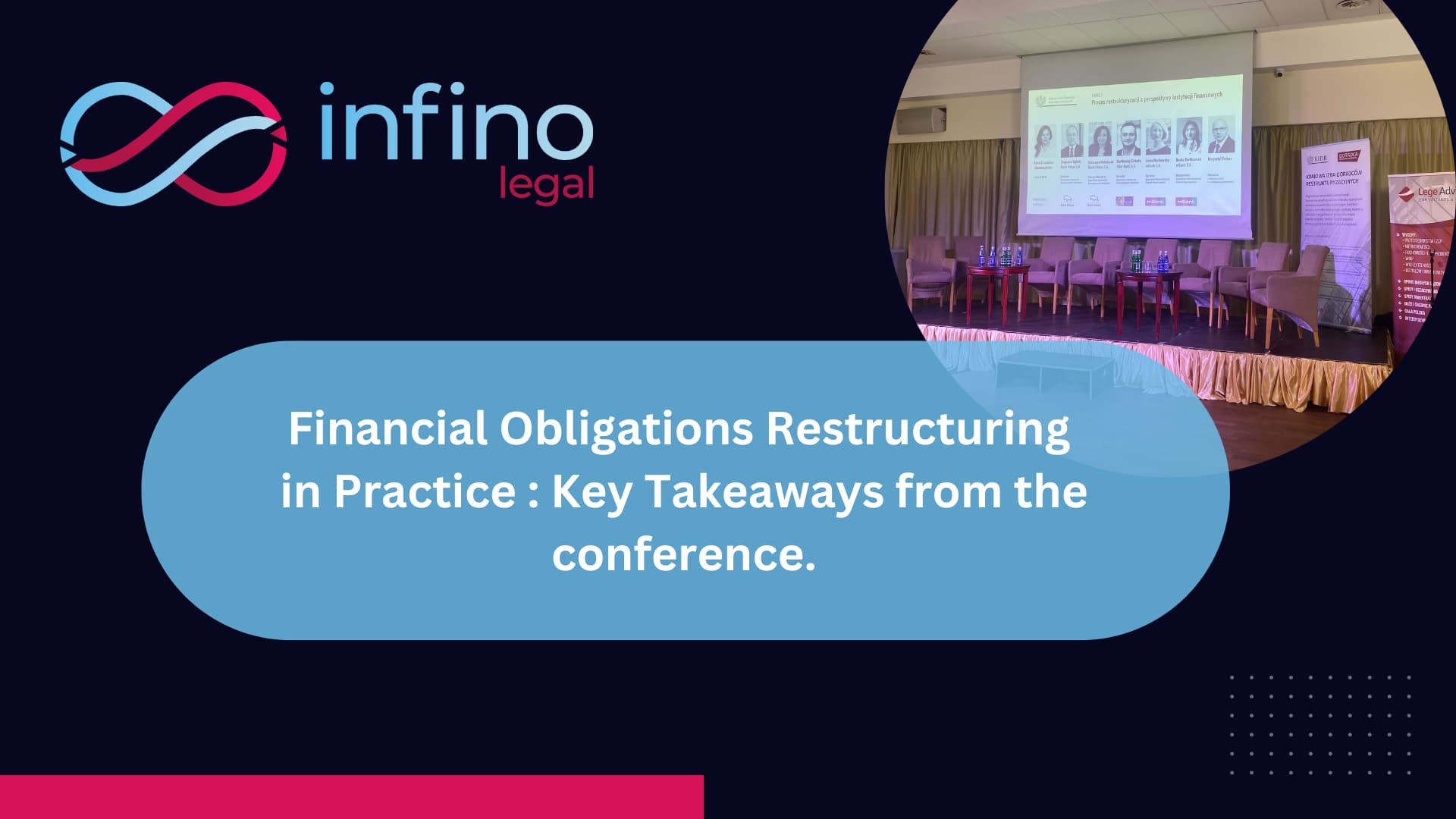 How to conduct the entire process successfully? Summary of the conference "Restructuring of financial liabilities in practice".
Early intervention as key to restructuring success.
The need for a long-term strategy. The value of advanced ratio analysis and key trends.
Dynamic arrangement scenario building and stakeholder group modelling key support during the arrangement approval process
We are pleased that, as Infino Legal, we were the main sponsor of the conference 'Restructuring of financial liabilities in practice' organised by KIDR. Company restructuring and liquidity issues are no longer taboo topics. A responsible managing manager should always think about the future and analyse various scenarios regarding the future fate of the company. Restructuring implemented early enough can be a great opportunity for companies on the brink of crisis.
The experience of entrepreneurs shows that the ability to adapt to changing conditions is crucial in business. Flexibility, attentiveness and the timely introduction of countermeasures can save many a business. If a company is facing financial challenges, a restructuring process may be the key to regaining stability. But how can this be done effectively and as quickly as possible? Which factors determine success? Conference speakers shared their experiences with restructuring; the topic was presented from the perspective of both restructuring advisors and banks.
From the practice of the speakers and conference participants, it was clear that despite the growing awareness of the benefits of restructuring, it is still implemented too late. Why is spotting the right moment to implement it so difficult? Entrepreneurs often do not adequately monitor their company's financial condition, moreover, they do not use expert support when the first liquidity problems appear. Flexible responses, early interventions are usually more effective and give companies a better chance of improving their finances, especially before they reach insolvency. The key during restructuring is to reach an agreement that is acceptable to all parties involved. It should be noted that not every restructuring is successful. The preparation of a comprehensive procedure is fundamental – the development of convincing arrangement proposals and a restructuring plan deserve special attention.
Restructuring, is a time-consuming and challenging process. Conflicts often arise between banks and other proceedings' stakeholders, mainly when the bank considers that the company and other creditors are the main beneficiaries of the restructuring. The discussions that take place can be very difficult, often stirring up a great deal of extreme emotion. Open communication and trust should be the basis. Examples presented by well-known and respected entities such as Alior Bank or mBank showed the assembled participants the various aspects and challenges of this process. During the whole process, it is important to ensure that banks have adequate time to analyse the situation, which may require the involvement of entities such as credit committees.
It should be mentioned that each bank approaches restructuring individually, requiring different reports and analyses. Transparency, accuracy in the provision of documents and proper planning are key. Reports, analyses of the current financial situation and the presentation of emerging trends of developments are very important. The preparation of such material requires a great deal of time, work and expertise.
Companies must actively seek to improve their situation, and banks are more open to negotiation when they can see real progress and possible scenarios for the entity's financial situation. As Infino Legal, we follow our clients' activities and recognise the challenges they face. That is why we decided to create a module that will support them during the arrangement approval proceedings. The Restru module not only offers advanced ratio analysis, which presents key trends in the future financial situation, but also allows the creation of dynamic arrangement scenarios and modelling of stakeholder groups.
It is worth emphasising that it is not only banks that play an important role in the restructuring process Advisors such as interim managers are critical to success. External advice can put companies on the right track, focusing on long-term solutions rather than just temporary ones. Furthermore, as indicated, the role of an advisor should not be limited to legal issues only.
In the long term, after restructuring, it is crucial to continue to act and implement the plan. It is important to remember that the effort put into restructuring is never in vain. The restructuring plan should be thorough and convincing, and the remuneration of advisers and trustees should reflect their actual contribution to the process.
In summary, the success of a restructuring depends on many factors. However, it is important for companies and their creditors to focus not only on temporary solutions, but also on a long-term strategy that will allow the company to achieve sustainable financial recovery and liquidity. Restructuring is a complex process that requires careful analysis and the right approach.
In this respect, it is extremely important to use the right tools to manage the process effectively and to support both restructuring advisors and entrepreneurs in facing financial challenges. Participation and discussions during the conference confirmed to us that the need to provide a comprehensive tool for restructuring proceedings was aptly defined. Our team has developed an advanced Info Restru module that fills a gap in the law firm software market, offering restructuring support to an extent that no provider has offered before.
By using such an advanced tool, both advisers and entrepreneurs can be confident that the restructuring process will be tailored to their individual needs.
Are you ready for Infino Restru to support your restructuring process?
I encourage you to talk to us.